2007 marks the twentieth year of the Zawinul Syndicate (as well as Joe's 75th birthday in July), and Joe and his son Ivan are putting together a special production to celebrate the occasion—a multi-disc set of Syndicate live performances recorded over the past two decades. It's still in the mixing stages, but it should get released later this year.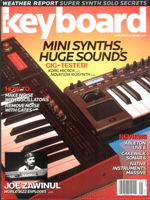 Zawinul is the subject of a feature article in the January 2007 issue of Keyboard magazine. Joe talks about his approach to synthesizers and the Syndicate. Also included are transcriptions and lessons from Joe's Weather Report days. All in all, it's good stuff and worth seeking out. Joe was also interviewed this month by JazzTimes magazine, so look for an article later this year.
In addition to the Syndicate boxed set, Joe is working on a new solo album. In the Keyboard article, he says, "I play my acoustic instruments on it myself, including piano, accordion, guitar, flutes, drums, and percussion. It's like Dialects, my last record, but more acoustic." And Brown Street, the live album with the WDR Big Band recorded last year, is due for its US release next month on Heads Up International. It's been getting rave reviews from those that have purchased the European release.
In terms of touring, Joe will undertake a month-long tour of Europe beginning in early March. The line-up will be Zawinul, Linley Marthe on bass, Paco Sery on drums, Aziz Sahmaoui on vocals and percussion, Jorge Bezerra Jr. on percussion, Sabine Kabongo on vocals, and Alegre Corréa on guitar and vocals.
Meanwhile, Joe traveled to New York this month to record with Kristjan Järvi's Absolute Ensemble. You may recall that Joe and the ensemble performed a program last summer entitled "Absolute Zawinul." Now they are recording an album. This may seem reminiscent of the WDR big band album, but the ensemble's instrumentation is unique, with an example of each instrument from a symphony orchestra. Joe says that the material will be different from the WDR big band album as well, including, for example, "Ice Pick Willy" from the Weather Report album Sportin' Life and "Peace" from Dialects. By the way, the Absolute Zawinul performances were broadcast on German television; if anyone has a copy, I'd be interested in viewing it.
The photo below shows Zawinul performing with the Absolute Ensemble at Turin, Italy on September 17 of last year. It was taken by photographer Greg Rattà, who kindly granted permission to reproduce it here. (Click the image for a larger view.)