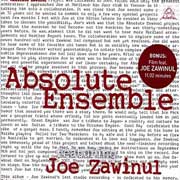 Absolute Zawinul, a collaboration between Joe and Kristjan Järvi's Absolute Ensemble, has been released in Europe. Recorded in the winter of 2006-2007, Absolute Zawinul is the last formal studio recording that Joe made. The project was initiated by Järvi, who approached Joe with the idea of the ensemble performing some of Joe's music. They combined for some live performances in the summer of 2006, and later went into the recording studio in New York to record the album.
There is a good description of the project on the Schott Music web site, where you can purchase the album. It is also available from Amazon Germany. Included is an eleven-minute video documentary about the making of the album. Obviously this is a must-have for Zawinul fans. No word on when it will be released in the states, but presumably there will be a licensing deal at some point.
In November 2007, I interviewed Kristjan Järvi with the idea of posting it to coincide with the release of Absolute Zawinul. Now that it is available in Europe, you can read my interview here.