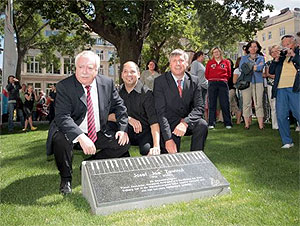 Earlier this month, the City of Vienna dedicated a new park in Joe's honor. It is located in the Landstraße district, where Joe grew up.
A monument for Joe was placed in the park. A piano keyboard is chiseled into the stone along the top, and it includes a short tribute to Zawinul's achievements. Vienna Mayor Michael Häupl was on hand for the dedication, along with Joe's eldest son, Tony.
Meanwhile, Joe Zawinul's Birdland closed last fall due to financial difficulties. At the park dedication, Tony indicated that he hopes to reopen Birdland in 2010 at a different location, with a different character from the original club that was set in the basement of the Vienna Hilton.
More information can be found at austriatimes.at.
[Hat tip to Arnie Spilman and Gehaurd Hauer]
UPDATE: Visitor Romain Labaye points out that it is Erich Zawinul, not Tony, in the photograph. The articles about the park refer to Tony, but it appears they were mistaken.