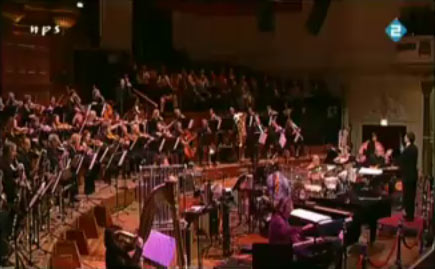 I was browsing YouTube the other day and came across the Metropole Orchestra's performance of "Peace," part of a program entitled "A Tribute to Joe Zawinul," recorded on January 26, 2008 at the Concertgebouw in Amsterdam, under the direction of Vince Mendoza. I was bowled over by its beauty. "Peace" was the closing tune on Zawinul's 1986 synthesizer tour-de-force, Dialects. In an interview at the time, he said he was inspired by hearing the flutist James Galway perform on television. The sound that Joe heard led him to the flute-like timbre that he used to improvise what became "Peace." In the Mendoza and the Metropole Orchestra's retelling of song, the lead is played by a violinist. It was a brilliant choice. The result is gorgeous, and it is well worth a listen.
In fact, you will find on YouTube several of Zawinul's compositions orchestrated by Mendoza and performed by the Metropole Orchestra. I never thought I would hear anyone perform "Jungle Book" live, let alone an orchestra. But not only does it work, it is simply outstanding. This performance reveals Joe's genius — remember, this was an improvisation he built up piece-by-piece at his home and in the studio — as well as Mendoza's gifts as an arranger and orchestrator, and the sympathetic ear that he has with respect to Joe's music. It's hard to imagine anyone else pulling this off.
Then there's "Nubian Sundance," another composition I thought I'd never hear anyone other than Weather Report perform. But here it is, played by a 60-piece orchestra. For the original recording on Mysterious Traveller, Joe used two drummers and a percussionist. Here the percussion is shared by Weather Report alumni Peter Erskine and Alex Acuña. Acuña's tamborine work here is astonishing. (The rest of the rhythm section consists of Victor Bailey, Amit Chatterjee and Jim Beard.) You'll also find "Dream Clock," "Elegant People," "In A Silent Way," "Fast City," and others.
These YouTube performances come from an NPS television broadcast of the Concertgebouw performance, which was recorded in HD. There is also a documentary about Joe's career that takes you behind the scenes. The narration is in Dutch, but the musicians who are interviewed — Erskine, Bailey, Acuña, Chatterjee and Beard — speak in English. So if you are patient and wade through the Dutch parts, you'll be rewarded with some interesting commentary, not to mention a short clip of Joe playing accordion.
Mendoza and the Metropole Orchestra repeated the program at the 2008 North Sea Jazz Festival, which from all accounts was a special performance. Although it wasn't videotaped, it was professionally recorded, which begs the question of whether a CD is in the offing. No word on that, but we can hope.
One additional note on Vince Mendoza: There is a lengthy interview with Vince at All About Jazz, in which he talks at some length about his association with Joe. Recommended.