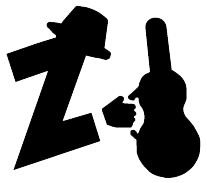 This summer marks the twentieth year of the Zawinul Syndicate, Joe Zawinul's electric jazz and world fusion juggernaut. Since 1988 the Syndicate has blazed its own trail with a unique, groove-oriented, improvisational brand of music that truly has no boundaries. The band remains as fresh and vital today as it was twenty years ago, having recently been called "one of the hottest bands in the jazz and music world" by international music critic and journalist Stuart Nicholson.
Leading the ensemble is Joe Zawinul, the legendary jazz fusion and electric keyboard pioneer who celebrates his 75th birthday in July. A native of Vienna, Austria who was trained in the classical tradition, Zawinul emigrated to the United States in 1959 and soon proved he could lay down a groove as funky as anyone. Stints with Maynard Ferguson and the great jazz and blues singer Dinah Washington led to the piano chair in the Cannonball Adderley Quintet, one of the premier jazz bands of the sixties. Adderley recorded more than 50 of Joe's songs, including the Grammy Award-winning hit "Mercy, Mercy, Mercy;" "Country Preacher," which was featured in the Clint Eastwood movie Play Misty For Me; and "74 Miles Away." Later, Miles Davis enlisted Zawinul to collaborate on the groundbreaking albums In A Silent Way (for which Joe wrote the title tune), Bitches Brew, Big Fun and Great Expectations. Miles recorded Joe's tune "Directions" several times, and it was his concert-opener for years.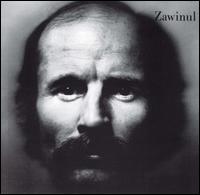 With his 1970 self-titled album for Atlantic, Zawinul put himself squarely at the forefront of modern jazz. Down Beat magazine described it as "the work of a complete musician who has transcended categories and is certain to have a profound influence on the direction music will take in the '70s." Those words soon proved prophetic when Zawinul formed the jazz super group Weather Report later that year with Wayne Shorter and Miroslav Vitous. Over the next fifteen years, Weather Report set a standard of excellence and consistency that has rarely been matched. It was named the top jazz band or electric jazz combo for fifteen consecutive years by the readers of Down Beat, who have also named Zawinul their favorite electronic keyboardist innumerable times over the last three decades. Weather Report's 1977 album Heavy Weather went gold, and its 1979 live effort 8:30 received a Grammy Award for best jazz fusion performance.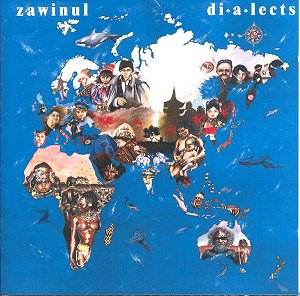 After Zawinul and Shorter brought Weather Report to a close in 1985, Joe concentrated on some oft-delayed personal projects, including his 1986 synthesizer tour de force, Dialects, and a series of concerts with the great classical pianist Friedrich Gulda. But it wasn't long before he was ready to put together a new band. Joe called it the Zawinul Syndicate because "when you are in the Syndicate, you are not just in a band, you are in a family." The Syndicate would evolve to include musicians from around the world, creating a musical synthesis unlike anything else. On this anniversary year, Joe looks back on two decades at the top of the jazz and world music scene.
•
"I wanted to play my music without a saxophone player," Joe says of his original concept for the Syndicate. "First, no one could replace Wayne Shorter. But also, by playing the melodies alone I could change them at any time. I could make the ensembles different every night. And that's what I really liked about that concept. I also wanted to have a guitar to take over some of those rhythm lines I played in Weather Report. And I wanted to be more groove-oriented even than Weather Report was, which had a phenomenal groove."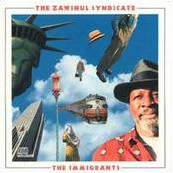 The Syndicate's first album, 1988's The Immigrants, featured Abraham Laboriel (bass), Cornell Rochester (drums), and Scott Henderson (guitar). Laboriel was a well-known session player with dozens of albums to his credit. Rochester came to Joe's attention through bass player Jamaaladeen Tacuma. "I first heard Cornell with Jamaaladeen, and then later in Holland with Odeon Pope, and I thought he was fantastic," Zawinul says. Henderson—a gifted soloist with a style that combines elements of rock, blues and jazz—had been a member of Chick Corea's Elektric Band. "I liked Scott Henderson a lot," Joe recalls. "I heard him in a trio and he played his ass off. He could play lines and he had a great tone. As a soloist, he was the best guitarist we had."
With Laboriel preferring session work to touring, Zawinul needed a special musician to supply the band's bottom end, and he found him in Gerald Veasley, a bass player from Philadelphia who would anchor the Syndicate rhythm section for years to come. "Cornell recommended Gerald," Joe remembers, "and Scott went to hear him with Grover Washington, Jr., and really liked him. So we brought him to the house right after he played with Grover at the Hollywood Bowl. And man, within two tunes we knew this was the guy. He could lay down a groove that hurt and he had a great personality. He had everything."
Rounding out the original Syndicate were percussionist Muyungo Jackson, who later joined Miles Davis' band, and Lynne Fiddmont, a versatile performer who could sing, dance, play keyboards and percussion, and subsequently went on to a successful solo career. The band hit the road, playing its first concert in New Jersey. "It was funny," Zawinul says of that first night, "because the power fluctuated so much that the keyboards went in and out of tune. It was really strange. It was the weirdest concert. It was in one of those funny night clubs, hardly any people there." From that inauspicious beginning, the Zawinul Syndicate was off and running.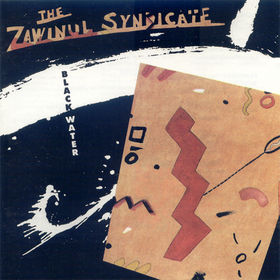 "Then we went to Europe," remembers Zawinul, "and right from the beginning, people liked the band immediately." The Syndicate recorded Black Water, its second album for Columbia, in 1989 and continued to build a following throughout the world. Bill Summers replaced Jackson on percussion, and was himself later replaced by Bobby Thomas, Jr., a Weather Report alumnus whose unique brand of hand drumming was heard to good effect on Weather Report's 1981 album Night Passage.
The second edition of the Syndicate took shape in the early nineties when Zawinul recruited drummer Mike Baker and guitarist Randy Bernsen for the band. "Mike was a good friend of Scott's," Zawinul recalls. "And when Scott told me that Michael was also a great singer, I checked him out and he got the gig." Baker, who later became Whitney Houston's musical director, was the kind of flexible musician Zawinul covets, adept at fueling the grooves with Veasley, but also able to handle the lead vocals for such tunes as "Can It Be Done?" from Weather Report's 1984 album Domino Theory. Bernsen replaced Henderson, who left to form his own band with bass player Gary Willis. "Randy was a good guitar player, and he had that Florida attitude," Zawinul says of Bernsen, who had played with the great Weather Report bassist Jaco Pastorius.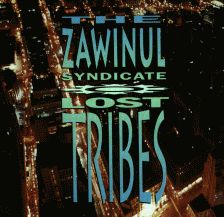 With Veasley, Baker, Bernsen and Thomas, Zawinul cut the 1992 album Lost Tribes. It featured one of Joe's classic tunes, "South Africa," an anthem to Nelson Mandela and the freedom fighters that led the struggle to end Apartheid. The song relied heavily on vocals, and Joe wanted to present it in concert. "We had the late singer and trumpet player Mark Ledford for a couple of tours, and then we had vocalists Carl Anderson and Leatta Galloway because I wanted to present the songs on our records live, and we did a hell of a job doing that. It was a nice period for us." Ledford also filled in on keyboards, allowing Joe to perform on the Pepe, a one-of-a-kind wind instrument that he designed in collaboration with Korg. Rodney Holmes later took over the drum chair before moving on to play with Carlos Santana.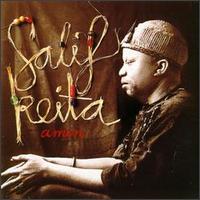 Meanwhile, Zawinul was asked to produce a new album by Salif Keita, the great Malian singer known as the Golden Voice of Africa. That collaboration resulted in the Grammy-nominated album Amen, which became the top-selling world music album of 1991. It was a significant event in Zawinul's musical journey. "I improvised the arrangements from the lead tracks that Salif sent, and then I went to Paris to rehearse it with the band. And when the musicians came to rehearsal, there was Paco Sery on drums, Etienne M'Bappe on bass, Kante Manfila on guitar—the greatest West African guitar player for this type of music—all these great musicians. And they loved the music immediately. We had so much fun. That was for me the most personal and nicest experience of all the records I've made. They were the kindest, the most open people. And I was struck by how well they played the rhythms, because I put my own things in there." That Zawinul would find an instant affinity with these musicians was not a coincidence, as he would come to learn. "'Black Market' was for 20 years the theme song of the Radio Dakaur jazz hour," he says. "They grew up with 'Black Market,' 'Nubian Sundance' from Mysterious Traveller, all the Weather Report songs."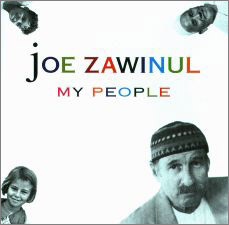 After Amen, the personnel of the Syndicate took on a decidedly international flavor, which was highlighted on Zawinul's 1996 Grammy-nominated album, My People. Several years in the making, My People demonstrated Zawinul's remarkable ability to fuse his own unique musical sensibilities with those from other cultures. It was a high point in the Zawinul discography, and marked the recording debut of a new edition of the Syndicate powered by the incomparable Paco Sery, a drummer from the Ivory Coast who seemed born to play Joe's music. "Paco Sery is just an ingenious musician," Zawinul says. "His beat is so deadly, and he's one of the few drummers with a tone. He's a great talent—not a drummer, but a musician who plays the drums."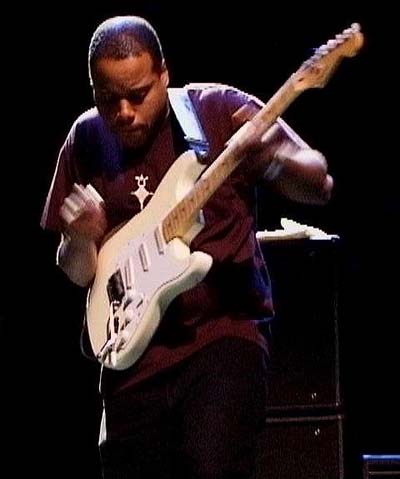 Teaming up with Sery was bass player Matthew Garrison, the son of John Coltrane bassist Jimmy Garrison, and another in the long line of fabulous bass players that Zawinul has had over the years. Also on board were Armenian percussionist Arto Tuncboyaciyan and Brooklyn-born guitarist Gary Paulson, yet another musician who Zawinul holds in great esteem. "The rhythm king!" Zawinul says of the guitarist. "Gary Paulson is the best rhythm player that we ever had in the band. His rhythm is absolutely devastating. And if he had not retired from the music business, he would still be in the band to this day."
When Richard Bona took over for Garrison, the Syndicate raised the level of intensity yet another notch. A gifted musician with stunning chops, Bona was equally adept at sitting in the pocket and holding down the groove. "I heard about Richard Bona from Cheik-Tidiane Seck, who coordinated the music for Amen," says Zawinul. "He told me, 'There's this guy, Richard Bona, from Cameroon. You gotta hear him.' I was in Paris playing with a trio consisting of Arto and guitarist Fareed Haque, and I asked Richard to come play with us, and I couldn't believe it. He was killing! So I told him, there would be a time when I would call on him, and that's what I did. And then we had the great band with Richard Bona and Gary Paulson."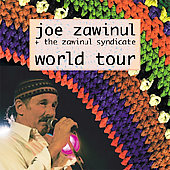 That edition of the Syndicate was preserved on the Grammy-nominated 1998 two-disc set World Tour, a triumphant album that captured the visceral energy of the band's live performances. World Tour also featured the return of two Weather Report veterans to the Zawinul fold: bass player Victor Bailey and percussionist Manolo Badrena. "Victor is bad," Zawinul says of Bailey, who performed on Weather Report's last four albums. "Groove-wise, he's right up there with anybody." And Badrena created one of the highlights of World Tour—the tune "Sunday Morning/Sunday Evening" —an improvised duet with Joe in which Badrena produced a beautiful flute-like sound from—of all things—a gas connection pipe. "Manolo's ideas are ingenious," Joe remarks. "He was really doing some fabulous things with us."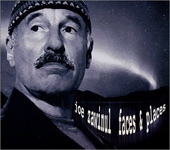 By the time of 2002's Faces & Places, Zawinul's musical universe had grown ever larger, encompassing the talents of bass player Etienne M'Bappe, guitarist Amit Chatterjee, and singers Mario Joao and Sabine Kabongo. Zawinul first worked with M'Bappe—"one of the best," Joe says—during the Amen sessions, while Joao was a frequent guest at Syndicate performances throughout Europe in the late 1990s. Chatterjee, who was born in Calcutta, India and raised in the United States, brought a unique dimension to the Syndicate with his soaring vocals. "Amit is an original guitar master," Zawinul says. "He plays beautiful melodic lines in his solos, and he is one of the greatest singers—a great, pure singer. He is a very worthy musician."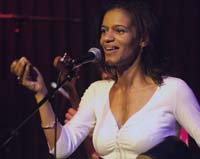 Joe holds a special place for Kabongo, a former member of Zap Mama who sings, dances and plays percussion. "Oh man!" he exclaims at the mention of her name. "Sabine is a singer born and raised in Belgium, but her folks come from the Republic of Congo. And she is something else. Amit worked with her in Trilok Gurtu's band and told me about her. As it happened, I was in Bonn, Germany doing some overdubs for Faces and Places and she was performing nearby in Cologne, so I invited her to try out something in the studio. And she did, and she was fabulous." She's been a part of the Syndicate ever since.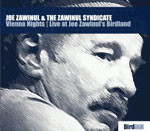 The 2005 double CD Vienna Nights—recorded live at Joe's own club, Joe Zawinul's Birdland, in his hometown of Vienna—marked the first appearance on disc for several of the latest members of the band, most notably the amazing bass player Linley Marthe, whose incredible chops have prompted some to call him "the bass player for the twenty-first century." "Linley is just a phenomenon," Zawinul says of Marthe, who hails from the East African island of Mauritius and now lives in Paris. "I don't know if there is anybody who can touch him in terms of overall bass playing." That is high praise, indeed, considering the great line of electric bass players Joe has worked with over years, going all the way back to Alphonso Johnson and the groundbreaking Jaco Pastorius in Weather Report. "Linley is a phenomenal bass player, a great pianist, and he's young. By the time he gets there, look out! He's upsetting everybody now!"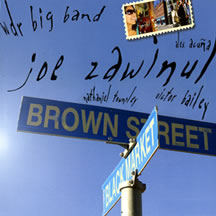 Vienna Nights also showcases drummers Karim Ziad and Nathaniel Townsley III. Any drummer who draws praise from Joe has earned his stripes—"It's difficult to play drums in my band," he says—and Ziad and Townsley receive high marks from the maestro. "Karim is an excellent drummer and a great composer who has an unbelievable band of his own. And Nathaniel is great. Absolutely great." A veteran of several Syndicate tours, Townsley got the call for Zawinul's 2005 collaboration with the WDR Big Band that resulted in Joe's latest CD, Brown Street, in which he makes his first extended return to Weather Report material since 1985. "Nathaniel's playing with the big band was amazing," Joe says. "He doesn't read music. He never played with a big band before. But for me he is one of the greatest big band drummers, period."
•
The current Syndicate line-up may well be the most potent of them all. Back in the fold is Sery, who along with Marthe forms perhaps the most exhilarating rhythm section that Zawinul has ever fielded. Joining them are Kabongo, Brazilian percussionist Jorge Bezerra, Jr., Alegre Correa on guitar and vocals, and Aziz Sahmaoui on percussion and vocals. "The band I have now is really good," says Joe. "Alegre is an extraordinary musician from Brazil who now lives in Vienna. He has a great melodic concept being a singer, and fantastic rhythm chops, which is so important for the music we are making. He can play anything. Jorge is a tremendous entertainer with a great beat, a great asset to the band. And Aziz is a fantastic singer and percussion player; there's never been a better shaker player." Together they take on Joe's hippest grooves at breakneck tempos, with dynamics that go from a whisper to a roar.
What should people expect when they attend a Zawinul Syndicate concert? "Expect to be mesmerized," Joe says. "We lift people up into another world. From the moment we start, something special is happening." With a three-CD retrospective set due later this year from Joe's BirdJam label, we are reminded of something Zawinul said nearly thirty years ago when asked to describe Weather Report's music. "Weather Report is the leader in a field of one," he said at the time. The same could be said of the Zawinul Syndicate. Don't miss them.