As reported earlier, Zawinul was the recipient of the European Jazz Festivals Organization (EJFO) inaugural International Jazz Award during the International Association of Jazz Educators Conference this past December in Long Beach, California. Aside from receiving the award and a $20,000 honorarium, Zawinul was honored by a special concert by the WDR German Radio Big Band, performing Zawinul compositions arranged and conducted by Vince Mendoza. Performing with the band were Weather Report and Zawinul alumni Peter Erskine, Victor Bailey and Alex Acuna. Manning the keyboards was Tribal Tech keyboardist Scott Kinsey. Zawinul himself was busy working on his own album, and did not participate in the rehearsals. The set list consisted of "Fast City," "Dreamclock," "Carnavalito," "Rua Paula Freitas," "In a Silent Way," and "Badia/Boogie Woogie Waltz."
I'm told that Zawinul and the WDR Big Band will do it again in November in Germany.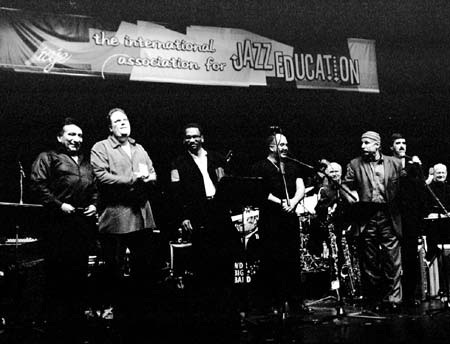 The performers take a bow. Left to right: Alex Acuna, Scott Kinsey, Victor Bailey, Peter Erskine, Joe Zawinul, Vince Mendoza. Photo: Cheryl Graul.