The 51st Annual Down Beat Critics Poll, published in the August issue of Down Beat, once again voted Joe Zawinul to the top spot of the Electric Keyboards/Synthesizer category, easily out-distancing runner-up Herbie Hancock, 260 votes to 138. I don't know how many times Zawinul has won this category over years, but I think it's safe to say that he's owned it since it was created sometime in the early 1970's.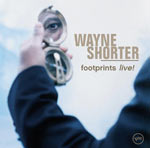 The big news of the poll, however, was that Weather Report co-founder Wayne Shorter topped six categories–an unprecedented feat over the previous 50 years of the poll. Shorter was named to the Down Beat Hall of Fame (fellow Weather Reporter Jaco Pastorius was accorded that honor in 1988, following his death the previous year). Shorter's quartet, featuring John Patitucci, Danilo Perez and Brian Blade, was named Acoustic Jazz Group of the Year. The group's album,
Footprints Live!
was named Jazz Album of the Year. And Shorter topped the individual categories Jazz Artist, Soprano Saxophonist, and Composer of the Year.
Congrats to Wayne and Joe!