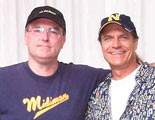 Former Weather Report keyboard tech Jim Swanson sent some photos from the Syndicate's August 25th performance at the Hollywood Bowl. (That's Jim and Brian Risner, Weather Report's Chief Meteorologist, on the right.) Jim was invited by Joe's son Ivan to help out with the concert, and along with another WR alumnus, Brian Risner, it was a bit of reunion. Jim reports that Amit Chatterjee was called away due to a family emergency, and Scott Henderson filled on short notice, cancelling his 50th birthday gig at La Va Lee's and learning the charts on the day of the show. Reports are that he sounded great with the band–even at rehearsal.
Henderson will perform with the band in Vienna and Milan (see the Tour Dates page), along with Linley Marthe, Arto Tuncboyaciyan, Sabine Kabongo, and Karim Ziad on drums. Also scheduled to play with the band in Vienna is guitarist Alegre Corréa. With Henderson and multi-instrumentalists and vocalists Tuncboyaciyan and Ziad, Zawinul has a new palette of sounds to draw from. I don't know how long it will last, but it will be interesting to see how this new line-up evolves.
By the way, I picked up the new Trio Mundo CD with Manolo Badrena. I like it. Check it out!