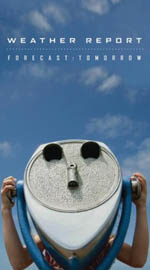 Sony has delivered the Weather Report boxed set, titled Forecast: Tomorrow, and there aren't any surprises from what we wrote back in February 2005. The three audio CDs consist almost entirely of tracks culled from Weather Report's Columbia albums. The exceptions are a DJ Logic remix of "125th Street Congress," an unissued recording of "Directions" from the I Sing the Body Electric studio sessions, and a live performance of "Nubian Sundance" from December 1974. The DVD is the September 28, 1978 performance at Offenbach Stadthalle that was broadcast on Germany's Rockplast television show. Poor quality reproductions of this show have been in circulation among tape traders for years, and it was packaged as the bootleg DVD "Young and Fine." But Forecast: Tomorrow's DVD is far superior in reproduction quality, and that alone will make this boxed set worthwhile for many fans.
Also of note is the 100-page booklet, with a lengthy essay by jazz historian Hal Miller, with quotes from many of the Weather Report band members. In particular, Wayne Shorter's comments on his compositions are most welcome. However, the notes are marred by errors, such as the wrong date for the Offenbach concert (an editing flub on Sony/Legacy's part—Peter Erskine gave them the correct date when he wrote the notes for the DVD).
Long-time Weather Report fans likely already have the music contained in the box set, and so may be hard-pressed to justify the nearly $50 price tag. Essentially, the fifty bucks gets them the concert DVD, the booklet, and a nice box. On the other hand, the DVD is the best video recording of Weather Report available. For casual Weather Report fans, or more recent Zawinul fans, the boxed set is a good overview of the band's history. Similarly, Jaco fans familiar only with Weather Report's Jaco years will find that Forecast: Tomorrow puts those years into perspective, not to mention that the DVD contains probably the best Jaco concert footage you'll find.