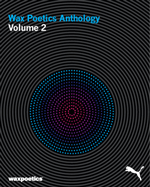 Back in 2004 I wrote a 9,300-word article about Joe's pioneering use of electronic keyboards that appeared in issue No. 9 of the magazine Wax Poetics. It covered Joe's development as an electronic keyboardist from 1966–-when his playing on the Wurlitzer electric piano helped transform "Mercy, Mercy, Mercy" to a national hit–-to his use of the Fender-Rhodes and analog synthesizers with Weather Report. The article included material from my interviews with Joe as well as interviews with Roger Powell, Brian Risner and Jim Swanson. My friend Andy Forward, the most avid Zawinul collector that I know, called it "the best (as in well written and well researched) thing I have read about Joe."
I am pleased to report that the article is included in Wax Poetics Anthology Volume 2, a compilation of the best from issues issues 6 through 10 in a collectible, hardbound edition. In addition to my article about Joe, there are in-depth retrospectives on Eumir Deodato and Sun Ra, and much more. The Zawinul article also has different photographs from the original magazine issue. Whereas the magazine featured a number of contemporary photos of Joe at his home in Malibu, the anthology includes several vintage shots of Joe working at his rig at his house in Pasadena in the 1970s.
If you're interested, you can purchase a copy of Anthology Vol. 2 at the Wax Poetics online store. The original issue No. 9 is also available here.