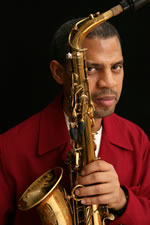 This December, acclaimed saxophonist Steve Wilson will reprise and expand a program of Joe's 1960s compositions that Wilson performed last year as part of an Austrian jazz/arts festival. The Zawinul Tribute concerts will take place December 17-20 at The Jazz Standard in New York City, and offer a rare chance to hear this music performed live by a top notch group of musicians.
The project is an outgrowth of a concert Steve staged last year. "Laura Hartmann, my manager, was the producer of an Austrian jazz/arts festival in NYC last year," Steve recently told me, "so of course Joe's music was an immediate consideration. I proposed doing some of his music that was lesser known but definitive of his evolution as a player and composer. With that in mind, the three Zawinul recordings that are the centerpiece are Soulmates (with Ben Webster), Money In The Pocket and Rise and Fall of the Third Stream.
"For this time around we will branch out to include 'In A Silent Way,' 'A Remark You Made,' and perhaps more of his material from Cannonball Adderley, Weather Report, and The Zawinul Syndicate. We will do '74 Miles Away,' and 'Mercy, Mercy, Mercy' as a set closer.
"What's appealing in performing this music is that it hasn't been performed and recorded that extensively by other artists, so it's still fresh and there's a lot of room for interpretation. And our chosen program is just an example of the wide range of Joe's musical vision.
"Ironically I met Paco Sery in French Guiana about 3 weeks ago, and we talked at length about Joe. I never got to meet him, but I did see the Zyndicate some years ago while on tour, and I saw him with Cannonball in 1970 (when I was 9 years old) where they were doing much of the Country Preacher material."
The performances will feature The Steve Wilson Ensemble with a line-up including Jeremy Pelt, Danny Grissett, Ugonna Okegwo, and Lewis Nash.
For more info, visit stevewilsonmusic.com or The Jazz Standard website.