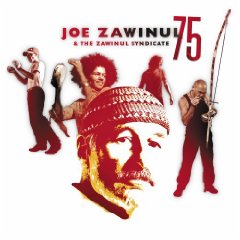 Nominations for the 52nd Annual Grammy Awards were announced last night by The Recording Academy, and Joe's album, 75, was nominated in the category Best Contemporary Jazz Album. Other nominees in that category are Urbanus, Stefon Harris & Blackout; Sounding Point, Julian Lage; At World's Edge, Philippe Saisse; and Big Neighborhood, Mike Stern.
Joe's post-Weather Report albums have been nominated several times, but have never won. Weather Report did win a Grammy for 8:30, and Cannonball Adderley won for the album Mercy, Mercy, Mercy.
In case you're wondering, here's the Grammy nomination process, courtesy Wikipedia:
Record companies and individuals may submit recordings to be nominated. The entries are entered online and then a physical copy of the product must be sent to the National Academy of Recording Arts and Sciences. Once a work is entered, reviewing sessions are held by over 150 experts from the recording industry. This is done only to determine whether or not a work is eligible or entered into the proper category for official nomination. They may vote to nominate in the general field (Record of the Year, Album of the Year, Song of the Year and Best New Artist) and in no more than nine out of 30 other fields on their ballots. Only 5 acts can be nominated for each category. Following this process the votes are tabulated. The 5 recordings that earn the most votes become the nominees. There may be more than five nominees if there is a tie in the nomination process. After the nominations are announced final voting ballots are sent to Recording Academy members. They may then vote in the general field and in no more than eight of the 30 fields. Ballots are tabulated secretly by the major independent accounting firm Deloitte Touche Tohmatsu. Following the tabulation of votes the winners are announced at the Grammy Awards. The recording with the most votes in a category wins and it is possible to have a tie. Winners are presented with the Grammy Award and those who don't win are given a medal for their nomination. Academy members in the nomination process and final voting process are to vote based upon quality alone. They are not supposed to be influenced by sales, chart performance, personal friendships, regional preferences or company loyalty. The acceptance of gifts is prohibited. Members are urged to vote in a manner that preserves the integrity of the academy. The nomination and final voting processes requires that members vote only in their fields of expertise. The eligibility period for the 2010 Grammy awards is October 1, 2008 to August 31, 2009.