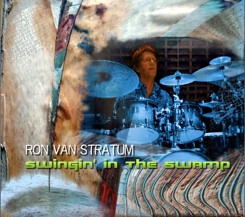 I got a copy of Swingin' In The Swamp the other day and I'm really enjoying it. I can confidently state that listening to this album will bring a smile to Zawinul fans. Ron cites Zawinul, Jim Beard and Scott Kinsey as influences, and that definitely comes through. Lots of funky basslines, tasty keyboard work, and world influences. Ron's work on the drums and percussion underpins it all. It's good to learn about a new musician making this kind of music. Keep it up, Ron!
Here's a press release brief describing the making of the album:
"Swingin' In The Swamp" – the story of how this album came into being is as unusual as the name itself! And the best way to hear it is from Ron van Stratum himself: "About five years ago, I felt that it was time to write a new repertoire for my band, go into a great studio, record a CD and get the ball rolling. But as life so often goes, I was constantly busy with other (wonderful) projects for other (wonderful) people on stage and in the studio. Parallel to this I started to build my own recording studio, finally write new songs and record demos. I invited some musician friends to play these pieces with me and – wow! It sounded so good that I decided to make the album completely by myself, as composer, drummer/percussionist, producer, sound designer, engineer…"

Ron van Stratum brings a very precise idea of "his" kind of music: jazz fusion with strong world music influences. He draws inspiration from greats like Joe Zawinul to whom the song "Zawinizm" is dedicated, and who has in Ron's opinion created his very own style of music; Jim Beard who plays along on some tracks from the album and brings the composition "Ode To The Doo Da Day" along; and also from Scott Kinsey. "Swingin' In The Swamp", a piece characterised by Kinsey's music and the title track of the album, was created from pure improvisation in the recording studio. It has neither a "real" theme or melody yet still holds to a traditional form.

Ron van Stratum thought spontaneously of the wide swamplands in their best sense: unbelievably flexible, incredibly dense, deceptive in appearance, and always bursting full of life!