Denmark photographer and Zawinul fan Finn Manford took these photographs at a 1986 Weather Update concert at Tivoli Garden in Copenhagen. Weather Update was a short-lived band formed by Zawinul in 1986 following the breakup of Weather Report. The lineup included former Weather Reporters Victor Bailey, Peter Erskine and Robert Thomas Jr., as well as guitarist Steve Khan, who had recorded a handful of successful fusion albums with his band, Eyewitness.
The breakup of Weather Report began following the release of the band's fourteenth album, Sportin' Life. There was no follow-up tour, as Zawinul and Wayne Shorter declared that Weather Report was "on hiatus." Omar Hakim signed with Sting, Bailey joined the band Steps, and Shorter quickly formed a new band of his own in support of his newly released solo album, Atlantis. Zawinul also recorded his own album, Dialects, a virtual synthesizer tour de force that was reissued on CD by Sony in 2002. He subsequently took his keyboards and drum machines on the road, performing as a one-man band in Europe during the summer of 1985. Meanwhile, contractual obligations forced one more Weather Report album, This is This, which was recorded during "Christmas tour breaks" (according to one Zawinul interview) at the end of 1985.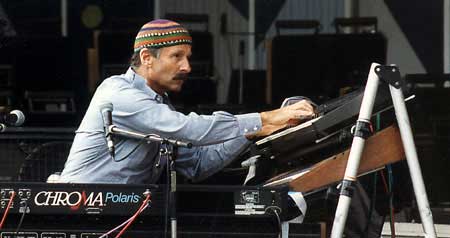 In February 1986 Shorter made it official: He was leaving Weather Report, choosing to spend the summer again touring with his band. San Diego Union-Tribune writer George Varga, who had interviewed Zawinul that week, wrote a brief news item, saying, "Weather Report will now change its name to Weather Update since Shorter has refused to allow the group to continue using the original name." In Varga's subsequent March 9 feature article, Zawinul sounded surprised and miffed. "I'm going to miss Wayne, but it's the best for both of us. I would've preferred to keep the name Weather Report, but the way we'll advertise our concerts people will know who we are. Wayne got his feet wet, and now he'll learn to be a bandleader, which is something he never had to do when he was with Miles or Art Blakey's Jazz Messengers. I didn't know that he wouldn't be available to tour with Weather Report until a few weeks ago, and I wasn't going to wait around for him to finish his own tour. I won't let 15 years of effort go down the drain."
Zawinul went on to say that Bailey and percussionist-vocalist Mino Cinelu would remain in the band, while Erskine would replace Hakim, and guitarist John Scofield would replace Shorter. "I couldn't think of anyone who could play like Wayne," said Zawinul, "so I didn't even try to replace him (with another saxophonist). It's time to change, and with John we'll have a fresher sound." Meanwhile, Zawinul toured his one-man show around the states in the spring of 1986, and articles promoting those concerts continued to name Scofield and Cinelu as members of the upcoming Weather Update summer tour. They bowed out before the tour started, to be replaced by Khan and Thomas.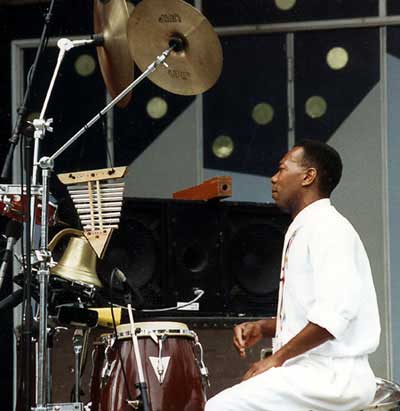 This is This was released in June of 1986, about the time Weather Update hit the summer European concert circuit. Weather Update also toured the U.S. in the fall, when Down Beat writer Bill Beuttler caught up with Erskine for an interview that appeared in the December 1986 issue. Responding to Beuttler's question, "How does Weather Update compare to Weather Report?" Erskine said:
"This group has more going for it potentially than the last few editions of Weather Report, basically because we're all just a little older and wiser. Joe's going for something, and he's going for it with a determination I've never seen before. You know, of all the keyboard players of the '60s and '70s—all the guys who played with Miles, let's say—they've all been wearing a lot of different hats. Joe's always been wearing the same hat—that beanie he wears [laughs]. He's always done Weather Report; he's never done an outside thing, never had to team up with this or that. He's narrowing down, and the music is getting more and more focused toward this thing he's pursuing—the tonality, the rhythm of it. And that's what this band means, I think; we're getting the closest yet to his musical vision.
"Most of Weather Report's music was written by Joe. Of course, Wayne Shorter added the dimension that made it Weather Report. There's no replacing Wayne, so in picking a new front-line player a guitarist seemed the natural choice. And Steve Khan's working out perfect, because he's completely versatile, a great team player. He has a wonderful sound, solos great, and when he's not playing the melody or soloing he's there in the rhythm section—so rhythmically I think the band is stronger, too.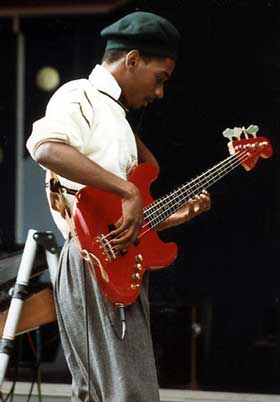 "I think the other band was more muscle-bound than this one; though that quartet in '78 with Jaco, myself, Wayne, and Joe was great. Now we're working on new music, just playing a couple of the old Weather Report tunes. The sound of Weather Update is also different, because we're all playing on new instruments. Zawinul's keyboards developed and he has more and better-sounding instruments, and they work better than ever. He can spend all his time free to play, whereas a lot of times before he was looking down at his pedals and wondering why something wasn't working [laughs]. The guitar, of course, gives us a whole different sound. And the drums are different now. I'm playing a new instrument that I'm real excited about, the new Yamaha Electronic Percussion System."
Erskine also revealed intentions to go into the studio soon: "We hope to do a new recording in January [1987]; we'll all write some music, but most of it will be Joe's of course. I think we'll record it in New York, though it might be premature to mention what label it'll be on."
As one might imagine, Weather Update was burdened with the inevitable comparisons to Weather Report, and expectations were high, perhaps impossibly so. The critical response was often unfavorable. The headline of the Toronto Sun's review of Weather Update's September 12, 1986 concert read: "Weather Update offers up only mechanical excitement."
In a 2000 interview with author Brian Glasser, Khan said that the band played "some music from This is This and some from Dialects, but in truth much of that music was not up to the same high standard of the original group and Joe and Wayne. Peter Erskine and I lobbied hard to play some of the best of the old music with new interpretations just until we had a completely fresh book of tunes which reflected this group's identity, Weather Update." Kahn also remembered feeling out-classed by John McLaughlin's Mahavishnu Orchestra, which was doing dates opposite Weather Update.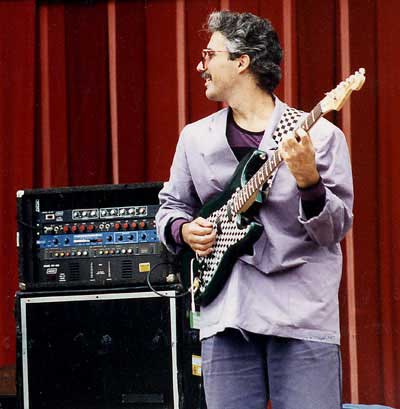 In hindsight, Weather Update was a transitional time for Zawinul. The next year he would wipe the slate clean and form a new band, the Zawinul Syndicate, with entirely new personnel and music. Nevertheless, Weather Update saw Zawinul incorporate elements that would become hallmarks of the Zawinul Syndicate, such as Zawinul's electronically processed vocalizations, and the use of the electric guitar more as a rhythmic component than a harmonic one. "In truth, Joe really likes R&B-oriented guitar, almost disco-style, single-note accompaniment," Khan would later say. "He does not really like chordal playing behind him." That description sounds a lot like former Zawinul Syndicate guitarist Gary Poulson.
Ironically, ten years after those Mahavishnu/Weather Update concerts, Zawinul again found himself playing a series of gigs opposite John McLaughlin. This time Zawinul was fielding one of his strongest post-Weather Report lineups, and the scenario was reversed. As Brian Glasser wrote, "The Syndicate came on after the intermission and simply wiped the floor with McLaughlin's band."
More details about the demise of Weather Report can be found on the Sportin' Life and This Is This pages of my web site, Weather Report: The Annotated Discography.
Photographs Copyright 2001 by Finn Manford. All rights reserved.