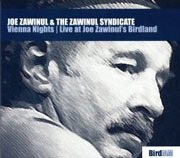 Zawinul's latest CD, the two-disc set Vienna Nights, is due for release here in the states this week. It's been available in Europe since June. Even better, in September Joe will be playing a number of concerts here in North America. Those are few and far between these days, as most of Zawinul's performances are in Europe. See the Tour Dates page for the itinerary. Below is the press release for the Vienna Nights US release.
Recorded at his own club (Birdland) in his hometown (Vienna, Austria) on his own label (BIRDJAM / BHM Productions), Vienna Nights is a musical celebration of one of the living legends of jazz who, at age 72, is still very much on top of his game. Indeed, Joe Zawinul hasn't lost a step, as evidenced by his typically torrid solos, razor-sharp attack and grand orchestral keyboard arrangements throughout this exhilarating live two-CD set, which documents the current edition of his Zawinul Syndicate in full stride and showcases the master at the helm of his most powerful band since Jaco-era Weather Report. "It's the best band I've ever had," says the proud patriarch of his multi-national juggernaut. "From a groove standpoint, it's just unreal, man. And when we get out and tour, we're going to shock people because the record is very, very good but we've even taken it up a notch or two since then."

The energy level is bristling and visceral throughout Vienna Nights, which was recorded in two separate weeklong engagements at Zawinul's Birdland club in May and September of 2004. "It was fun to play with these guys," says Joe. "They are talented young musicians and we have much fun doing what we are doing on this record."

On CD 1, Zawinul's Syndicate comes out of the gate charging hard on the energized opener, a buoyantly surging rendition of Salif Keita's "Y'elena" (from the African pop star's 1991 recording Amen, which Zawinul produced). Belgian-African vocalist Sabine Kabongo (formerly of Zap Mama) contributes the stirring vocals on top of a slamming groove laid down by drummer Nathaniel Townsley and electric bass virtuoso Linley Marthe, a remarkable new Zawinul discovery who hails from Mauritius, a small island in the Indian Ocean off the southeast coast of Africa near Madagascar. "Sabine is a unique vocalist," says maestro Zawinul. "Nobody can do what she's doing the way that she's doing it. And Linley, I think, is going to be the top bass player. I think he already is but people don't know it yet. He's amazing. He's really got it, man."

Guitar great Scott Henderson, a former Zawinul Syndicate member from the late '80s, appears as special guest on the kinetic "Two Lines" (from Weather Report's 1983 album Procession), which is fueled by Algerian drummer Karim Ziad. Zawinul, who leads the pack with vocoder-inflected vocals over this throbbing swing groove, says of Henderson's fiery solo here: "Scott is one of my favorite solo guitar players, and he plays one of the world class jazz solos on this tune. The combination of what we do between my comping and his soloing is fantastic. It's a very unique call-and-response kind of thing." Zawinul follows Henderson's pyrotechnic solo with an outstanding solo of his own. Says Henderson of the hookup with his former employer: "Joe's regular guitar player (Amit Chatterjee) couldn't make the gig at Hollywood Bowl last summer so Joe called me at the last minute and I did the show. Then he asked me to do a week at Birdland in Vienna and a week at the Blue Note in Milan. It was a lot of fun listening to Joe play his ass off every night and I think he sounds better than ever."

On Tuncboyaciyan's poignant ballad "Do You Want Some Tea, Grandpa?," Zawinul affects an accordion sound for his solo voice while accompanying Arto's heartfelt vocals with orchestral synth accompaniment and adding some vocoder vocals of his own. Ziad's compelling "Chabiba" features some powerful vocals by Moroccan percussionist Aziz Sahmaoui and is solidly grounded by Ziad's backbeat, Marthe's heavy bass groove and Alegre Corrêa's rhythm guitar work. Zawinul's "Blue Sound/Note 3" segues from an adventurous synth improvisation to a wistful ballad carried by Kabongo's operatic vocals. Henderson returns to unleash some fretboard fury on an exhilarating rendition of Zawinul's "Rooftops of Vienna" (from 2002's Faces & Places). Zawinul also contributes vocoder vocals on this surging uptempo groover, fueled by Harlem-born drummer Townsley and bassist Marthe, while alternating his lead synth tones from grungy electric guitar to warm-toned accordion.

"Louange" is Ziad's Gnawan flavored jam, complete with gimbre (an Algerian stringed instrument) upfront and vocals by Sahmaoui, while the explosive closer "East 12th Street Band" (from Faces & Places) flows with a swing groove that never lets up from start to finish. Syndicate guitarist Amit Chatterjee takes a ripping solo here.

On CD 2, Zawinul's expansive pan-global vision is realized by tunes from 2002's Faces & Places like "Cafe Andalusia," named for a favorite Tunisian emporium of water pipes and mint tea, the Argentine-flavored "Borges Buenos Aires" and the powerfully percussive "Tower of Silence," about an awesome structure in Bombay, India. Zawinul's churchy organ tones on "Intro To A Mighty Theme" (from 1996's My People) segues into a hauntingly beautiful duet between Joe and Sabine on Ellington's profoundly spiritual ballad "Come Sunday." Then on the relaxed swinger "Three Postcards" (from 1998's World Tour), Zawinul dials up an accordion mode on his synth and wails with the virtuosic dexterity of a Richard Galliano. CD 2 closes with a medley of two classic Weather Report tunes from 30 years ago or more — "Badia" (from 1975's Tale Spinnin') and the anthemic "Boogie Woogie Waltz" (from 1973's Sweetnighter), both featuring screaming wang bar inflected solos from guitarist Henderson and grounded by the intensely grooving rhythm tandem of Townsley and Marthe. On these and other tunes throughout this sizzling two-CD set, Zawinul rises to the occasion with some of his most dynamic playing in recent times. "I am really in great shape," says the 72-year-old maestro. "I've always felt good but I feel even better now. I do sit-ups every day and I've been boxing quite a lot, training on the speed bag, shadow boxing and sparring. I'm also out there splitting wood with an axe. What can I say? I'm old school, man.

"This record is very nice because the groove, the rotation among the players is so enormous. It moves more than ever before and I can really get into this. In the past I've often had to be a part of making the rhythm happen. There were times in the past if I stopped for four bars you could really feel a drop in the energy. And that cannot be. But these guys, man…they're rotating and marching and are slick with it. And because the groove is so solid I can be much more spacious in my way of expressing myself."

Understandably proud of his current edition of the Zawinul Syndicate, he notes, "We're setting some high standards because we sing, we entertain and we bring a high grade music. That was always the thing I wanted to do in my life and I learned this not from Duke Ellington, I learned this when I was in Vienna. That was the old musician standard. You had to go out there and play faultless, first grade music and entertain people. I really believe in that, and the great masters of the jazz music like Louis Armstrong, Duke Ellington and Cannonball Adderley were into the same thing. I am totally into this, man, and it's been wonderful. I've been playing better than ever and we just continue growing. We have something now to reckon with on a serious level."

Stay tuned for upcoming Zawinul Syndicate tours this summer in Europe and autumn in the States. Until then, feel the heat of Joe's most scintillating outfit to date on the live Vienna Nights.