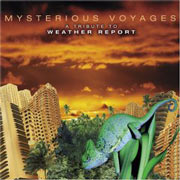 I picked up this double CD recently and I'm really enjoying it. Put out by ESC Records, Mysterious Voyages is a compilation of 24 tracks by various contemporary artists and groups, including a mix of interpretations of Weather Report compositions, as well as entirely new composition inspired by Weather Report's music. I think most of the tracks for this album were culled from previously released material by the artists. I recognize the Tribal Tech and Gary Willis tunes, as well "Teen Town" by Marcus Miller and a few others. But the bulk of this album was new to me, and it is refreshing to hear that the legacy of Weather Report and quality fusion (for lack of a better word) carries on.
To a certain extent, the covers of original Weather Report tunes suffer due to the inevitable comparison to the originals. And let's face it, the originals are pretty hard to beat. However, special props to guitarist John McLean for an absolutely beautiful rendition of Jaco's "Three Views of a Secret" on acoustic guitar. And then there's Acoustic Mania's version of "Birdland"–played entirely on two guitars. Wild.
But to me, where this collection really shines is in the original tunes that are in one way or another inspired by Weather Report's music. The first track, Scott Kinsey's "Big Rock," is previously unreleased and has a Zawinul-eque vibe to it. Hopefully it is a taste of things to come from Scott's anticipated solo album. (By the way, Scott is slated for a European tour in February, joined by Scott Henderson, Matthew Garrison, and Gary Novak.)
Other highlights for me include Michiel Borstlap and Yuri Honing's "Memory of Enchantment," Trinity's "Weather is Changing," Kai Eckhardt's "Queen of Cups," "White House" by Bombay (Borstlap and Honing again), and Slop Shop's "Overlook Hotel." In fact, I've been hunting high and low to buy more stuff by Slop Shop leader J. Peter Schwalm. And that's the best part about this album: I've become aware of a number of artists I had either never heard of, or whose work I hadn't heard. I'll be checking them out, and fans of Zawinul and Jaco will want to do the same.
AllAboutJazz.com has also posted a review of Mysterious Voyages.