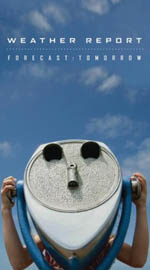 Sony/Legacy Recordings plans to release that long-delayed Weather Report boxed set, entitled Forecast: Tomorrow, on September 16. As we described back in February 2005, this will primarily be a compilation of tracks from Weather Report's 16 Columbia albums. Well, all except This Is This. Not the treasure trove of new material that die hard Weather Report fans would like to see.
Nevertheless, there will be a few unreleased items thrown in: An unissused version of "Directions" with Eric Gravatt from November 1971; a complete live version of "Eurydice"; a live recording of "Mysterious Traveller," recorded in Chicago in December 1974, and a remix of "125th Street Congress." (A complete track listing can be found at Sony/Legacy's site.)
But the most interesting part of the set will be a DVD of Weather Report's September 28, 1978 performance at Offenbach Stadthalle that was broadcast on Germany's Rockplast television show. Grainy, nth-generation copies of this video have been in circulation among traders for years, but according to those who have seen it, the DVD included in Forecast: Tomorrow is pristine. That alone will make this set worthwhile to many fans.