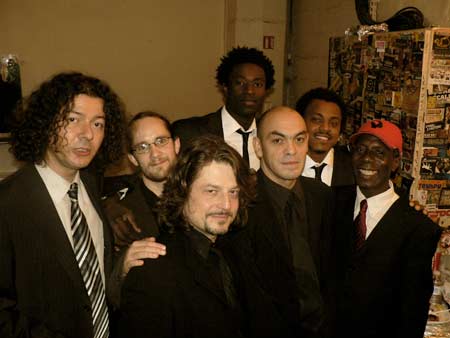 The Syndicate, the band formed by several members of the Zawinul Syndicate in order to carry on Joe's legacy, has several concerts scheduled for this spring. The Syndicate features four members of the final edition of the Zawinul Syndicate: Drummer Paco Sery, percussionist/vocalist Aziz Sahmaoui, percussionist Jorge Bezerra, and guitarist Alegre Corrêa. Additional members are Aloune Wade on bass, Emile Parisien on sax, and Thierry Eliez on keyboards.
The following concerts are scheduled for next week: Mar. 16, Moods, Zurich, Switzerland; Mar. 17, Blue Note, Milano, Italy; Mar. 18, Porgy & Bess, Vienna, Austria; Mar. 20, Jazzhouse, Copenhagen, Denmark.
Additional concerts on the books for this year are: May 1, Budapest; May 19-22, Festival Abidjan, Ivory Coast; Jul. 24, Parc Floral, Paris; Aug. 27, Güssing, Austria; and Nov. 26, Prague, Czechoslovakia.
I haven't heard this band, but my guess is that this is as close to the Zawinul Syndicate as you're going to get without Joe. If anyone reading this does attend one of their concerts, drop me a note and let me know what it was like.