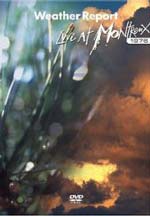 The news seems to get better and better for Weather Report fans, as there's been a recent revival in bringing the band's material to market. Last Fall saw the release of Forecast Tomorrow, which includes an entire 1978 Weather Report concert on DVD. And of course there's Zawinul's recent album, Brown Street, which casts a number of Weather Report tunes in new guise with the WDR Big Band.
Now comes the DVD Weather Report: Live at Montreux 1976, due April 17 from Eagle Rock Entertainment. The Montreux Jazz Festival folks have recorded and videotaped their concerts for years, and their sister company, Montreux Sounds, in conjunction with Eagle Rock, has been bringing out an entire line of "Live at Montreux" DVDs.
This DVD captures Weather Report in the summer of 1976 during Jaco Pastorius' first year. He had recorded on the album Black Market earlier in the year, and made his first appearance with the band on April 1. The line-up included Alex Acuña on drums and Manolo Badrena on percussion, along with Joe and Wayne.
Bootlegs of this concert have floated around the trading circuit for years. (In fact, you can probably find clips on YouTube right now.) But this is the first time this concert has been released officially, and we can expect the quality to be first-rate. And at $14.98, the price is right as well. I haven't been able to verify the regions for which the DVD will be available; hopefully it will be US, Europe and Japan. This is Weather Report at the cusp of greatness. A must for Weather Report fans.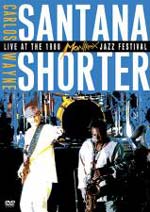 Another Montreux production of note is
Carlos Santana and Wayne Shorter: Live at the Montreux Jazz Festival
, recorded at Montreux on July 14, 1988. This DVD is over two hours long and contains interviews with Santana and Shorter, as well as Montreux Jazz Festival founder
Claude Nobs
. The band included former Weather Report bassplayer
Alphonso Johnson
, as well as drummer Leon "Ndugu" Chancler, who performed on Weather Report's
Tale Spinnin'
. Among the tunes is Zawinul's "Black Market" from the Weather Report
album of the same name
. Released in Japan in 2005, the new release from
Image Entertainment
came out on February 27 for the US market.